[NEW ITEMS AVAILABLE NOW!!] 4/24/13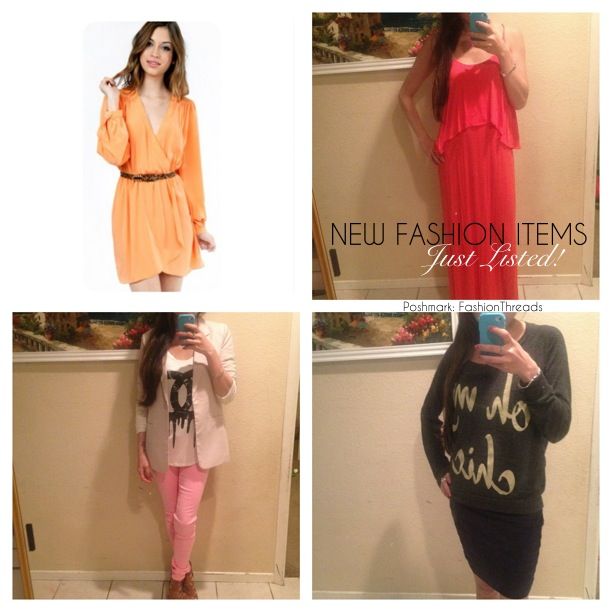 Top Left: AVAIL – Dress comes in same style/different color (BLUE)
Bottom Left: AVAIL – Khaki Blazer (Small)
Top Right: AVAIL – Coral Maxi Dress (Small)
Bottom Right: AVAIL – Blue Chic Skirt
To Purchase any of these items, visit: http://www.Poshmark.com & Go to our Store: @FashionThreads. If you need assistance finding us on the site, contact us and we will guide you through the page. Prices and details will be listed under each item listing. You may also message us with any questions or comments you have!
SALES & Discounts are a Monthly Bonus from Us to You! So Check Us out & Don't Miss out!
We provide item "bundling" to all of our Customers. So you get to choose a lot more than what you would if you paid retail price! So just ask, and you shall receive!
ALSO: ALL items are Authentic & handpicked from the Los Angeles & Orange County, California area.
Make sure to bookmark our site and stop by for Newly listed items & the seasons Hottest trends. Updates on Giveaways & SALES are posted on Our Instagram: @FashionThreads_OC. Follow Us for the latest & hear about upcoming items before anyone else!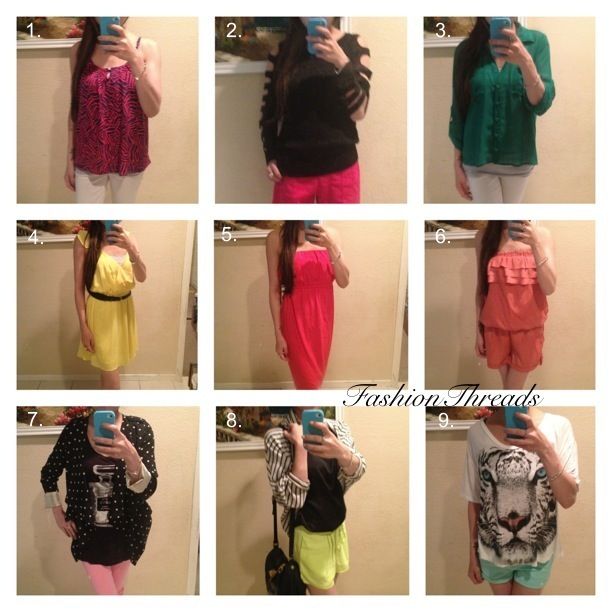 1. Coral & Blue Tank
2. Black Glitter Cut-Out Top
3. Emerald Pantone 2013 Top
4. Yellow Sun Dress
5. Coral Tube Dress
6. Rust Ruffle Romper
7. Polka Dot Blazer – SOLD OUT!
8. Black & White Striped Sweater
9. White Tiger Top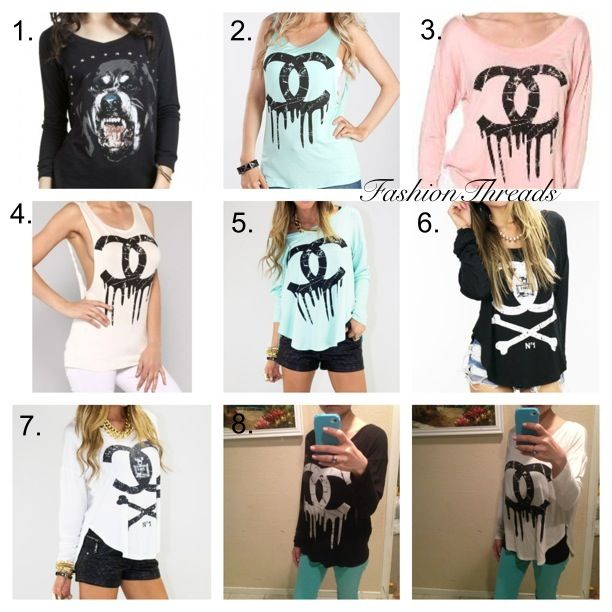 All Items Marked as 'COMING SOON' are now available for pre-order. Please contact FashionThreads@Rocketmail.com for details on items that are not in stock yet & you would like to purchase before they are featured on our site! All other items are available in our store: Poshmark.com !! NEW Colors will be Coming Soon in all of these pictured styles! So check back soon.
1. SOLD OUT!
Rotti Givenchic Stud Detail Top
2. AVAILABLE NOW! (All Sizes)
Drip CC Mint Cut-Out Back Tank
3. AVAILABLE NOW! (All Sizes!)
Drip CC Dusty Rose Long Sleeve Top
4. COMING SOON! (All Sizes!)
Drip CC Light Beige Cut-Out Tank
5. AVAILALBE NOW! (All Sizes!)
Drip CC Mint Long Sleeve Top
6. AVAILABLE NOW! (All Sizes!)
CC Black Skull Long Sleeve Top
7. AVAILABLE NOW! (All Sizes!)
CC White Skull Long Sleeve Top
8. AVAILABLE NOW! (All Sizes!)
Drip CC Black Long Sleeve Top
9. AVAILABLE NOW! (All Sizes!)
Drip CC White Long Sleeve Top
[FLORALS & MORE] 5/12/13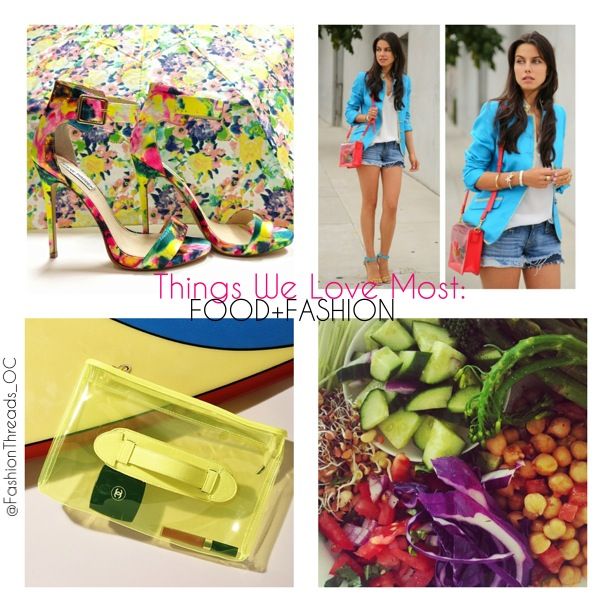 We are currently obsessing over these HOT PRINT Floral Heels, designed by Steve Madden for his Spring Collection 2013. They're absolutely spot on & perfection! Pair them with a colorful or neutral blazer like the one shown on Annabelle Fleur. Her blue blazer adds that perfect pop of color which matches the straps to her heels perfectly! Also in are right now is the clear carryall – currently being produced by many brands and designers. You can either wear it on a strap as a cross-body or just simply carry it. Shown here is a yellow & clear carryall, now available for purchase at Nasty Gal Stores. As you can see, it's great for carrying extra makeup, your cell phone and your favorite lip gloss.
Lastly, one of my favorite parts of the day! Eating/snack time
Stay lean this Summer snacking on an array of colorful veggies. From cucumber, lean chicken to chick peas, an assortment of everything your body needs will have you looking and feeling healthy for swimsuit season & beyond!
[NOW TRENDING: SPRING'S HOTTEST HANDBAGS!] 5/10/13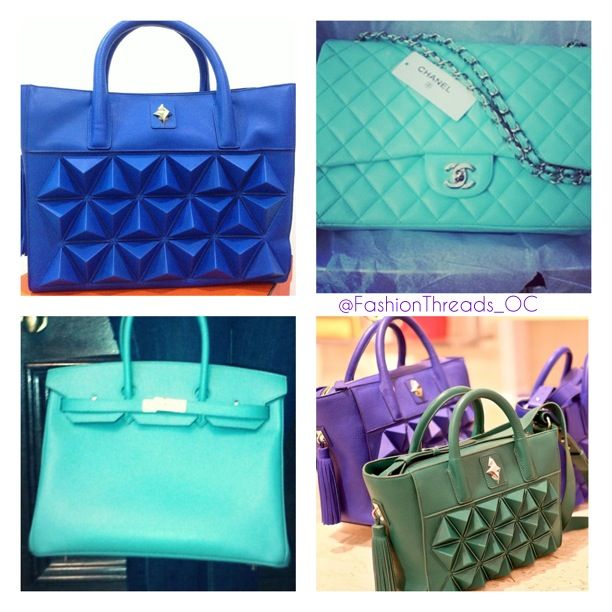 Can you guess which Handbag has yet to hit the U.S. in stores? If you guessed the top left and bottom right, then your right! It's the Electric Blue Sofiaa lasfoor Classics Shield 300, which also comes in purple and green! This same style also comes in a 200 and 100 size, which are a bit smaller than the 300, but just as Luxurious as the other!
[COACHELLA 13'] 4/12/13
For those of you who have yet to attend the yearly Coachella Festival, well you won't want to miss out on this years extravaganza! There's still time to jump in your car & head down to the desert! Everything from fashion faves, food, drinks and music entertainment will be featured ALL DAY LONG. Who wouldn't want to attend? Here are some of the trending styles (featured by FreePeople) that will be seen all over the SoCal Festival. So, if you are the "better late than never" kind of person, you will def want the low down.
Cut off's, Sam Edelman's & Tank can be found at the LF Stores in California.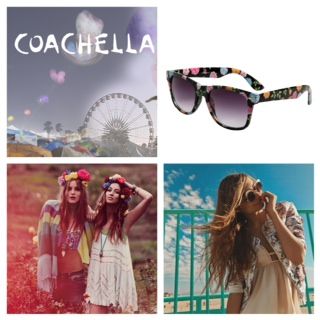 Flower Sunnies, & Halos
These hip shades can be found in a print pattern, or you can sit down for a DIY! Creating your own Flower Sunnies = less money to spend + a unique pair of your very own style! Halos can also be found in many boutiques, although there are a few very popular companies that make them year round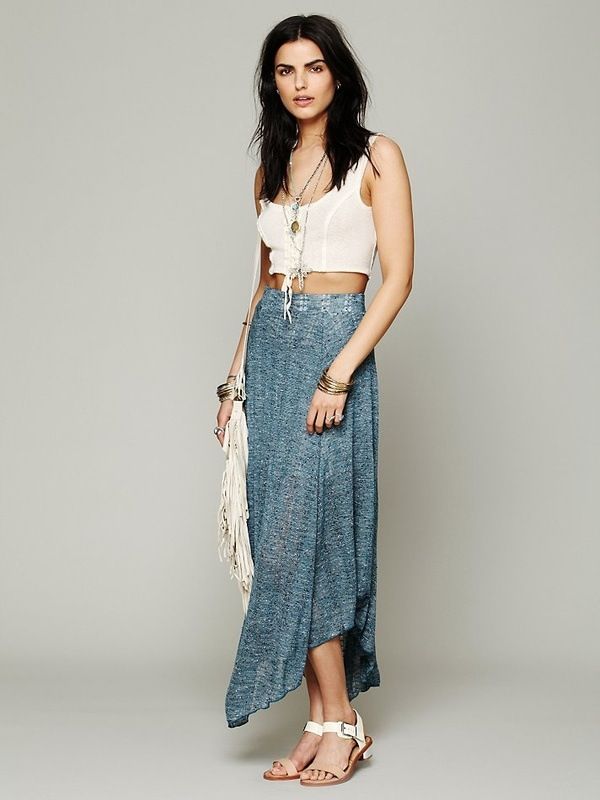 Long skirts & bustier style tops are a must for the heat! Just about every brand/label is selling this bustier style top & you can find them just about in any store you choose! From zippered middles and buttons, there are so many styles to choose from. Add a touch of color to your outfit and your set!
[FLORAL PRINT JACKETS + HALOS] 4/15/13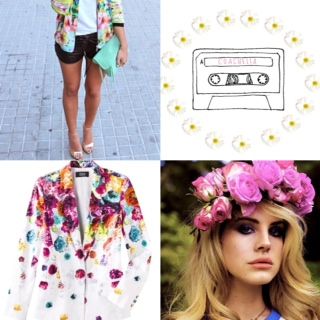 Prabal Gurung's Floral inspiration piece featured in the bottom left corner is a work of art so to speak! Featuring florals on a chic white jacket. The combo is simply perfect for Spring! Most Prabal Gurung items SOLD OUT all over in Targets all around the country!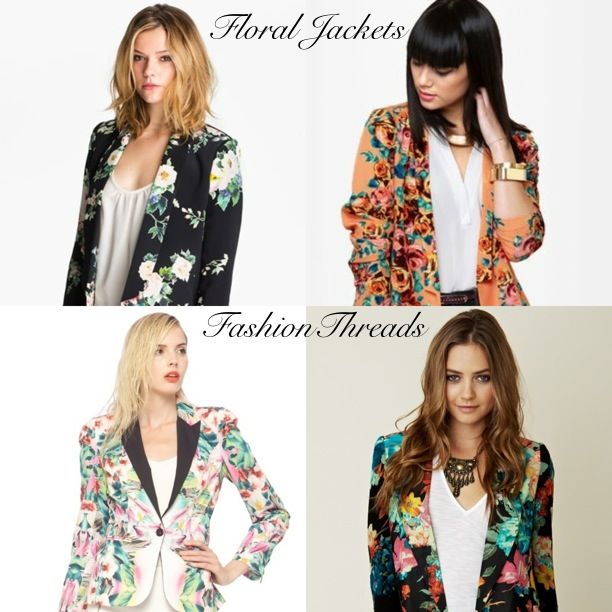 Now Trending: Floral Print Jackets & Blazers. You can find them in an array of different colors, patterns & styles. From different designers/brands & price points. These are a must in every woman's wardrobe this Spring!